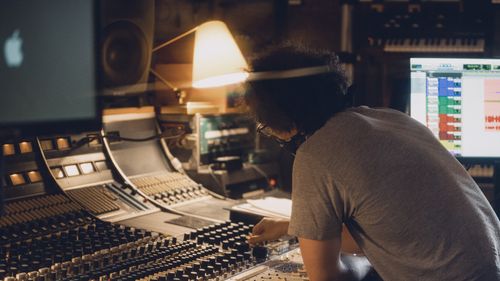 THE KNOBS HAVE BEEN TWISTED
THE FADERS HAVE BEEN NUDGED
We've compiled a selection of songs that we're super stoked to dump into your ears. We've started dropping singles and expect to be releasing the Full Length before the turn of the year. We appreciate your patience and support.
WE'VE GOT A PODCAST
Hey there. We've got a Podcast on Spotify called "F The Clock." Each episode is hosted by one of us in the band. Then, invariably...a long winded discussion ensues about the songs or the theme of the show. Don't take it too seriously. It's just a chat about songs that we think are worth turning people onto.  The songs could be old, fairly stale, or fresh out of the oven. We touch on some obvious artists, but always try and feature a few new ones for those of you that are always jonesing for some new music. And hey, if you're cooler than us and knew about them a year ago...please email us and you can be our next guest !  Give it a try. If you like it, be a hero and push the FOLLOW button on Spotify. We promise, nothing bad will happen. In fact, nothing will happen at all. It simply helps us escape the listener-less hell that is the Spotify Algorithms. Cheers.
Shows
There are no LIVE shows currently scheduled, but our hope is to be in front of you by Fall of 21'. Please check back often.  Email us if you would like to see us play a particular town or venue.